Yes, indeed I did. And I published it, too.
So, it took me three years, two months and fifteen days to have it finished. Welcome to New York started off as a writing exercise, I never intended to make it into a book, even though publishing one was an old dream of mine.
It all started with NaNoWriMo (for those unfamiliar with it: National Novel Writing Month – a challenge that happens every year in November, where you have to write 50k words in that month) in 2014. Within the first week of the month my laptop died. By the time I had it fixed, November was over along with my will to write.
But then I told some friends that I had started to write something, and they got all excited, and that kind of motivated me to start over. So I picked it up again and, in November of the following year, started over. The story changed completely from what it was at first – but I'll tell you all about that in a future post.
This one is to celebrate that Welcome to New York happened. To celebrate I started, restarted, wrote and rewrote, and finished it. I can't even begin to tell you how many stories I have sitting unfinished on my hard drive. But not this one.
This week, from today until Friday, you can grab it for free on Amazon and become part of my journey. And that's not all! In addition to that, I'll be running a giveaway!
DID SOMEONE SAY… SIGNED COPY?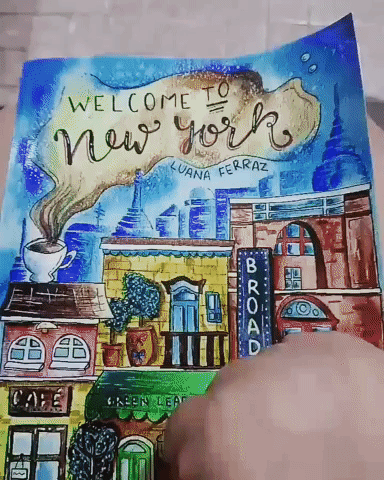 I'm a big supporter of ebooks.
I have one small bookshelf in my living room that used to overflow with books. I had books on the shelves, on tables, under my bed – wherever I could fit them. And I had to clear space very often. Now I have a Kindle, so I can buy all the books and they will never take any space.
However…
It was only when I held a physical copy of Welcome to New York that I truly felt like an author. Nothing beats the feeling – and the smell – of a paper book. So, to celebrate this new adventure, I'm going to giveaway one signed copy of WtNY to one of you awesome people – wherever you are in the world!
CLICK HERE to see all the ways you can enter!
Over the next five days, I'm going to share some secrets and extras about this story that is kicking off a whole new chapter of my life. And I invite you to come along! I'll tell you all about the characters, places, songs – everything that make up this little world I created. And by the end of the week, I will announce the lucky giveaway winner!
If you have any questions or observations, leave a comment below or hit me up on social media – you can find me on Twitter, Instagram, and Tumblr. Give me a follow and let's chat!
That's it for now.
So, good luck everyone! I'll see you tomorrow!
PS.: I never won NaNoWriMo, I never wrote 50k words in a month. This kind of makes up for it, though. But I still try every year.
---
» Grab Welcome to New York for free on Amazon!
» Enter the Signed Copy giveaway!
Follow Me!
Twitter | Instagram | Tumblr | Facebook
∴ Subscribe the Newsletter to be the first to know when there's a new post up! ∴
[ninja_form id=4]