Last month, #bookstagram convinced me to read a book. I'm sure you can relate, I'm sure I'm not the only one who picked up a book purely for the hype. Well, it turned out to be a great book. So, I decided to read another from the same author. And it was a fantastic book! I decided to keep going and read all of her back-catalog and, now, she's my new favorite author.

Her name is Taylor Jenkins Reid (ring any bells?) and I just finished reading her entire body of work. I worked my way backward, starting with Daisy Jones & The Six and finishing with her debut, Forever, Interrupted. It was the first time I did that and I found it very interesting to see how her most current work compares to when she started, how her writing evolved, what are her recurring themes.

My favorite thing is probably Taylor's ability to create such complex, flawed characters because it's one I wish I had! She makes it seem so easy when, in fact, it's the hardest thing. This is the most difficult part for me—creating completely different people and finding their different voices. I loved how even the smallest characters were perfectly fleshed out. I loved her women! I think this is her greatest accomplishment—she writes such strong, captivating women, they really come alive and guide the stories. The friendships between them are also something that really stood out for me.
Also, the fact that reading her stories feels like watching a movie is mesmerizing.

In summary: I love her and I want to be her when I grow up.

Since talking about books is in my top 3 things to do, I'm going to give you a rundown of what I thought of each one below. Proceed on your own discretion, though, because some of these reviews contain SPOILERS!
---
You probably know what this one is about by now, but in case you've been living under a rock, let me tell you: this book talks about the whirlwind rise of an iconic (and fictional) 1970s rock group and their beautiful lead singer, revealing the mystery behind their infamous breakup. It's told in the form of interviews with band members looking back at what brought them together and eventually broke them apart.

First of all, I have to say that the format of this book is pure genius. I would never think something like this would work out, but it did and it was such a perfect way to tell this story.

Second – the female characters. For me, this is where this story truly shines. It's the strong, independent, fierce women that shape this world and make this such a great read. They are all so admirable, so self-aware, so decisive, I'm in awe.

All characters are so well-written and complex. They're all so human! Personally, this is what I look for in books, either when I'm reading or writing them. Believability. Consistency. Flaws. It's the imperfections, the rough edges, the raw parts that make us truly connect with one another. I loved and hated all of these people at some point, I pitied them and got angry with them, I understood them and judged them—and this roller-coaster was one of my favorite parts of reading this. All the feels!

My absolutely favorite part, though, was when they're writing for Aurora. I personally have such a strong connection with music, and to see Daisy and Billy writing, connecting, falling for each other over the songs was so magical, so real. The way the songs are described, how they come to be, what they are supposed to make you feel, and then how you actually feel about them even without listening to the final record, was a whole experience in itself. Finding the lyrics at the end of the book was a pleasant surprise, and I can't wait to actually listen to them! I mean, they're using the original songs for the TV show, right? THEY BETTER!
---
You might have heard of this one, too, it was pretty hyped as well. Evelyn is a (fictional) classic film actress who, at the end of her life, decides to publish a tell-all memoir about her relentless rise to the top—the risks she took, the loves she lost, and the long-held secrets the public could never imagine.

This story was not what I was expecting it to be. It took me by surprise, ripped my heart out of my chest, shredded it into pieces and never put it back together—dramatic, I know, but I feel like Evelyn would approve this sentiment. I loved and hated her with equal passion, which is one of my favorite things to happen when reading any book. She was such a strong, stubborn woman, she's made so many mistakes, she lived such a unique life—she felt so real! She went through so much, either by choice or chance, you can't help but be captivated by her.

The secondary characters were the best in this one. I fell in love with Harry, I resented Celia, Monique's character development was so well done, and that plot twist!!! I did not see that coming, and it was so perfectly done! Like Monique herself, it made me hate Evelyn, but also understand her, and UGH! All the feels.

This book is certainly making its way into my list of books I'll have to reread someday.
---
This is the story of Emma, who, in her twenties, marries her high school sweetheart, Jesse. On their first wedding anniversary, Jesse disappears after a helicopter accident and is presumed dead. Emma's life changes completely, but she moves on. Years later, she starts to fall in love again with another man, Sam. She sees it as a second chance in love. And, then, Jesse is found.

I think this is my favorite one of the bunch. I almost didn't pick this one up because the blurb didn't quite get me and because it's romance—you know I have a few problems with this genre (click here to read the previous post if you haven't). But now I'm so glad I did! This book completely restored my faith in the genre!

As I mentioned before, I started writing romance because of the things I hated in the books that I've read of this genre. But if it was because of the things I loved, then it would be because of this one alone—it has all the things I try to incorporate into my own novels.

My favorite thing about this book was how realistic it felt. It's such a simple, common-place story, but the character development is so real. I connected with Emma so deeply, and I think part of the reason is that, like her, I'm in my thirties now and I'm absolutely not the person I was back in my twenties (let alone in my teens). People change, often times fundamentally, and some things in our lives cannot be erased or ignored—we have to deal with them. We have to be honest with ourselves about who we are and what we want. At some point, we must realize that, well, this is it now. This is who I am now. This is my life now. And it doesn't have to be a bad thing.

That's exactly what this book does—it tells us that change can be good, growing up is inevitable, life is going to be painful but also beautiful, and, in the end, everything will be okay.

And love, true love, is perhaps easier than we think.
---
The idea for this one is really interesting—it shows the life of Gabby in two separate universes: one when she leaves a bar with her friend, the other if she leaves with her ex-boyfriend. You know that theory that says every decision we make is actually possible and there are millions of versions of ourselves out there living all of the possibilities? This is what this book tries to touch on.

This one is in the bottom two for me, but still very much original and enjoyable! Some of the recurring themes in Taylor's books are fate and destiny, and I think this is the book in which they are the most prominent.

It's also the book with probably my favorite friendship—Gabby and Hannah. I have friendships like that, people that feel like siblings, who are not afraid to hold me accountable for my mistakes while still loving me with their whole hearts. It was really refreshing to read a story where friendship was the main focus in some of the most important parts.

That said, I really wanted it to end on that note. I really wanted the friendship to be the moral of the story here. I was kind of disappointed that it wasn't.

Another thing was that I didn't feel for Hannah as much as I felt for the main characters in the previous books. I felt like Hannah spent most of the book just narrating her own story instead of living it, which prevented me from creating that emotional connection with her.

There were also a few other things that were just grazed by that I think deserved a deeper discussion, like the fact that she doesn't even consider an abortion but mentions the fact that she's pro-choice. I really wanted to know the reasons behind this decision. Another thing was the relationship with her parents. I felt like this was the root cause of so many of her problems, yet we never see it addressed or discussed. And the ending, although I didn't like that both her and Gabby ended up finding their happy endings with men, I liked the fact that the soulmate (at least for Hannah) was a different person in each universe. I like the idea that "the one" for each person is defined by the situation they're in, that it's not necessarily "written in the stars".
---
Reading this book was an experience. Up to halfway through, it was winning the position of my least favorite, but then… oh, boy.

So, the premise of this story is very interesting—a couple who grow apart and to try to solve this problem (should they break up or work on it?) they decide to spend one year apart, with no contact whatsoever, in order to 'find themselves'. This is promising. This can be an amazing look into the importance of individuality, into the differences between a healthy and an unhealthy relationship, into society's views of marriage and how it influences our own views and expectations, etc.

Well… it's not about that. But it kinda is. But it's not. And this is what left me torn.

Halfway into the book, I'm hating it. I'm absolutely hating the way Lauren is dealing with all of this. This story has so many of the pet peeves I mentioned in that post and the whole plot is based on miscommunication, which is something I really, really hate. Like, you've known someone your entire life, how hard can it be to talk things through?

But then… then Lauren has a conversation with Rachel, her sister. It's a short conversation, seemingly insignificant, it's just the two of them hiking and having a sisterly moment. And it hit me. Hard. Harder than I was expecting it to. Because I'm Rachel. If you have read this book, you'll probably understand what I mean. If you haven't, then go read it and you'll understand what I mean.

Rachel basically tells her that she doesn't have the same ache Lauren has to have what she calls 'a normal family'. She's happy without it, she's fulfilled without it, but she understands Lauren's feelings. This is when I realized that maybe, just maybe, my problem was that I was being judgmental. And I felt guilty. I felt so guilty for judging this fictional woman through my own values and beliefs. And I know that we do this all the time, that this cannot be avoided, but I also know the importance of empathy. I also know that different people have different ways of dealing with their problems, of living their lives. And I was being so unfair to Lauren when she really was just trying her best.

The book changed for me after this. I read the second half with different eyes. I cried the whole last 40 minutes of the story. And… I don't know. I think it changed me a little bit.

I still don't agree with most of the things Lauren did, though. I still don't like that the whole story was built on the fact that Lauren and Ryan just didn't communicate despite being together for over a decade. But I also feel like I understand them, I understand what happened and why it happened, and I also think I understand myself better now.
---
Forever, Interrupted (⭐️⭐️⭐️)

This one was my least favorite one and I think it is due to how the story is told, not the story itself.

It tells the story of Elsie and Ben, who meet while they're buying pizza one rainy night. In the span of six months, they fall madly in love and get married. But, then, two weeks after the wedding, Ben tragically dies. The story is divided into two timelines: before and after Ben's death.

The book opens with Ben's death. I feel like beginning the story with The Event kind of took away the chance of ripping our hearts out and connecting with the main character. We knew nothing about them and their relationship, so I had little foundation to empathize with Elsie and feel her pain.

I also wasn't convinced with Elsie's relationship with Ben, which was a big problem since it's the base of the whole plot. I felt there was little to no development, it happened out of nowhere, and the progression of it made no sense. Like one of the characters says in the book, it was a supernova relationship—it burned too bright and too fast. Except, I didn't feel the brightness. I didn't feel the chemistry between them and, in general, it just bored me.

The one thing that made it really worth my time was the friendship with Ana and later with Susan. As I said in the beginning, Taylor's ability to write complex women and complex relationships between women is admirable. This was what really gave life to this story.

I think that if it was written in chronological order, it would have had a stronger impact on me.
---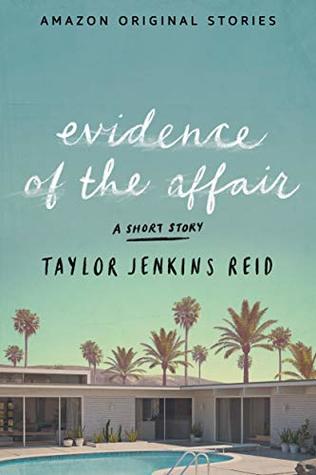 BONUS
Evidence of the Affair (⭐️⭐️⭐️)

And I also read this short she wrote exclusively for Amazon! It's an epistolary tale of this woman who finds out her husband is cheating on her and decides to write to the mistress husband. They end up connecting over this and the whole story is centered in them dealing with this and developing their own relationship. This all happens in the 1970s, which seems to be an era Taylor has been obsessed with lately.

It's short and sweet and a little too predictable, but I still ended up wanting to know more after the end, which is a good thing.
---
---
---
---
---
---
So, this is it! Tell me, have you ever read all of the books of your favorite author? Have you read anything from Taylor Jenkins Reid? Leave a comment and let's chat!
---
» If you'd like to know what I'm reading and follow my reviews, you can find me on Goodreads and BookBub!
Follow Me!
Twitter | Instagram | Tumblr | Facebook | Goodreads | BookBub
∴ Subscribe the Newsletter to be the first to know when there's a new post up! ∴
[ninja_form id=4]